Mac Uisdein - Macdonald of Sleat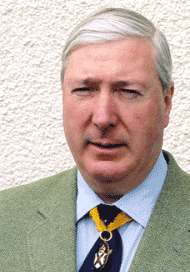 Sir Ian Godfrey Bosville Macdonald of Sleat, 25th Chief of Sleat and 17th Baronet.
Sir Ian is descended from Hugh, the younger son of Alexander, 3rd Lord of the Isles and Earl of Ross. Sir Ian succeeded his father, Sir Alexander Somerled Macdonald of Sleat, in 1958.

Sir Ian is the premier Baronet of Nova Scotia as his title was created on July 14, 1625 with precedence over Sir William Douglas of Glenbervie, who was created in the same year.
During the term of Godfrey Macdonald of Sleat, the 18th Chief, 3rd Lord Macdonald and 11th Baronet, his oldest son, Alexander William Robert Macdonald, was considered illegitimate because of doubts over the validity of his father's Scottish marriage to Louisa Maria La Coast, a natural daughter of HRH The Duke of Gloucester and Lady Almeria Carpenter, the daughter of the Earl of Tyrconnel. Subsequently, Alexander took the name Bosville, remained in Yorkshire while his younger brother, Godfrey William, succeed to the Scottish estates and titles becoming 19th Chief of Sleat and 4th Lord Macdonald.
Since the death of the 3rd Lord Macdonald (18th Chief) in 1824 in Bridlington, East Yorkshire, England, Sir Ian's family have lived at Thorpe Hall, Rudston in the East Riding of Yorkshire, a property inherited from William Bosville, who died childless and whose sister, Diana, had married Sir Alexander (16th Chief), the 9th Baronet and 1st Lord Macdonald, having been raised to the peerage in 1776.
In 1910, Sir Ian's great-grandfather, Alexander, obtained a decree of the Court of Session in an action of Declarator which proved that Alexander's grandfather, Alexander William Robert Macdonald of Sleat, was indeed the eldest lawful son of the 3rd Lord Macdonald. At that, Alexander resumed the name Macdonald, becoming the 22nd Chief of Sleat, and 14th Baronet.
Although by bardic tradition, the Chiefs of Sleat were in their own country always referred to in Gaelic as "Nan Eilean" (of the Isles), the Lord Lyon could not allow this because HRH The Prince Charles carries the title Lord of the Isles. Therefore, Sir Ian's father ceased calling himself Macdonald of the Isles and adopted Macdonald of Sleat. Interestingly, in 1947, Sir Ian was baptised "Of the Isles" and will probably be the last Sleat Chief to be so.
Sir Ian's chosen patronymic is "Mac Uisdein" (Son of Hugh) which relates back to the original Hugh of Sleat and the Lordship of the Isles. Sir Ian's slogan, "Carna", is the name of a small island on Loch Sunart where Donald Balloch gathered the Clan in 1431 before the Battle of Inverlochy, and also Donald Dubh in 1545 before his last insurrection. The war cry of Clan Donald is "Fraoch Eilean".
Sir Ian attended Eton College and the Royal Agricultural College, and is a Charter Surveyor in Land Management. He is a Trustee for the British Red Cross, and has been Chairman for Northern England, Chairman of the National Assembly Group, which heads 500 to 600 volunteers, and a member of the Finance and Internal Audit Committee.
Sir Ian is married to the former Juliet Fleury Ward-Harrison. Sir Ian and Lady Macdonald have three grown children, Deborah, Somerled, and Isabel. On July 15, 2003, their son Somerled married the former Charlotte Perkins in the Cathedral in Derby.
The clan motto for Macdonald of Sleat is: Per Mare Per Terras.
Sloinneadh: Shir Iain Gorraidh mac Alasdair Somhairle mhic Gorraidh 'ic Alasdair Uilleam 'ic Gorraidh 'ic Alasdair Uilleam 'ic Gorraidh 'ic Alasdair 'ic Alasdair 'ic Seumais 'ic Domhnaill Breac 'ic Seumais Mhor 'ic Domhnaill Gorm Og 'ic Gilleasbuig Cleirich 'ic Domhnaill 'ic Domhnaill Gorm 'ic Domhnaill Gruamach 'ic Domhnaill Gallach 'ic Uisdean 'ic Alasdair 'ic Domhnaill 'ic Eoin 'ic Aonghais Og 'ic Aonghais Mhor 'ic Domhnaill 'ic Ragnhaill 'ic Somhairle.