Mac Mhic Ailein - Macdonald of Clanranald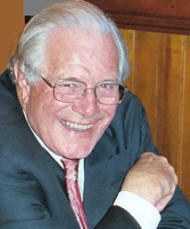 Ranald Alexander Macdonald of Clanranald, 24th Captain and Chief of Clanranald.
Clanranald spent most of his early life in England where he was educated. His father, a Royal Marine, died just before World War II, and his young mother was left with the job of raising a son alone.
After School, Clanranald was out in Hong Kong with the services, and subsequently did twelve years as a territorial officer in the Queens Own Cameron Highlanders, headquartered in Inverness, mostly commanding the South Uist unit.
In due course, Clanranald moved to London to start his own company, developing various businesses in the commercial Interior environment. During his career, Clanranald served as a senior committee member of the British Contract Furnishing Association, becoming their president in the late 1970s. Clanranald sold his business interests in the late 1990s and retired to his home at Killin, Perthshire, in the central Highlands of Scotland.
Whilst living between London and his home in Killin, Clanranald worked on many Clan and Highland heritage projects. He is a founding trustee, and at one time, chief executive of the highly acclaimed Clan Donald Lands Trust in Skye, which was created in 1971 by the Clan Donald Chiefs to make a home and headquarters for Clan Donald worldwide on part of the Clan's ancient territories.
Clanranald is also a Trustee of the Finlaggan Castle trust on Islay, which has done tremendous work stabilising and interpreting that ruin known as the cradle of Clan Donald.
Clanranald is a keen yachtsman. His interest in boats, and the critical assistance of his good friend Wallace Clark, with important contributions from many other people, led to the Building of Aileach, a 40 foot replica of a 16th Century West Highland Celtic Galley. Since her construction, Aileach has had many adventures, including surviving a gale in the North Atlantic on her way to the Faroe Islands.
Clanranald is also closely involved in the efforts of Mr Lex Brown owner of Castle Tioram, to restore that ancient Clanranald stronghold to its 17th Century glory, as a home for Lex and a world Headquarters to members of Clanranald.
Clanranald is vice-President of the Highland Society of London, having been President in the late 1980s. The Society is a distinguished and ancient charity for Highlanders founded in 1782, with a history of major influence, and success in having the act banning Tartan and the bagpipe repealed.
Clanranald's elder son and heir, Ranald Og Angus Macdonald younger of Clanranald is a successful restauranteur with two fine restaurants called 'Boisdale' in London, one in Belgravia and the other on Bishopsgate in the city. Ranald and his wife Kate have four children Alice aged 10 Ranald 8 and the twin boys Angus and Hector aged 4. When not in London, Ranald and his family can be found at Morenish House, Killin, Perthshire.
Clanranald descends directly from the Boisdale branch of Clanranald, so his younger son Andrew Ivar, bears the Arms of Macdonald of Boisdale. Recently married in 2001 to beautiful Italian Delphine, in August 2002 they were blessed with their first child a boy named Somerled. Andrew and his wife live in London, where he is a management consultant with interests in South America, where he is often to be found.
Clanranald's daughter, Kate, is a well known painter with studios in Santiago, Chile, where she finds the climate and pace of life agreeable. She exhibits there and in Europe, and was recognised in 2000 with an award as Chile's best young artist.
In matters of protocol, it is usual to introduce Clanranald for the first time as The Captain of Clanranald, subsequently as Clanranald. The use of the hereditary courteous title of Captain goes back to the 1400's and denotes princely rank.
Sloinneadh: Ragnhaill Alasdair mac Coinneach Alasdair mhic Tearlach 'ic Raibheart 'ic Raibheart 'ic Cailein 'ic Alasdair 'ic Domhnaill 'ic Ragnhaill Og 'ic Ragnhaill 'ic Ailein 'ic Iain Muideartach 'ic Alasdair 'ic Ailein 'ic Ruairidh 'ic Ailein 'ic Ragnhaill 'ic Eoin 'ic Aonghais Og 'ic Aonghais Mhor 'ic Domhnaill 'ic Ragnhaill 'ic Somhairle.