Mac Mhic Alasdair - MacDonell of Glengarry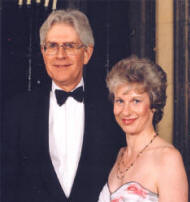 Aeneas Ranald Euan MacDonell, 23rd Chief of Glengarry.
Glengarry was born on 11 November 1941. He attended Bryanston School from 1955-1959. Continuing his education in 1961, he studied at St. John's College, Cambridge, until graduation in 1964. He travelled worldwide as a businessman, retiring at the end of 2001. Glengarry was the Director of London & Scandinavian Metallurgical Co Limited. This company is a producer of metals, alloys and chemicals, and is owned by Safeguard International / Metallurg Inc., USA.
Since his retirement, he has had the great pleasure of marrying the very lovely Carolyn Richardson on the 9th of May 2002. Clan Donald was privileged to meet the new Lady Glengarry very shortly afterwards, at the High Council of Clan Donald Chiefs' Tour of Uist and Skye.
Another very special memory for the Glengarrys followed on the heels of that tour, as they attended the Clan Donald USA AGM in Charleston, South Carolina that September. Not only charming all they met, Lady Glengarry was treated to a surprise birthday celebration.
Glengarry is extraordinarily proud of his two daughters by his first marriage. Fiona Jane, the eldest, born in 1971, is now Mrs. Cumber. She has presented the family with two grandchildren, Sam James Cumber, arriving in 1999, followed by Phoebe Cumber, in 2001. His second daughter, Victoria Ann, born in 1972, is working in northern England.
The Chief is now able to put a little time into an enjoyment of his own. He is singing first bass with a local choral society, which recently performed Hayden's "Nelson Mass."
When reminiscing about clan memories, he is quick to mention the Raven's Rock Memorial to his father at Armadale. A ceremony marking its unveiling during the Uist / Skye Tour in 2002 was the culmination of effort, time and devotion on the part of many, and serves to remind members of the 22nd chief's special personality as well as the many years of service he gave to Clan Donald.
Glengarry expresses his first aspiration for Clan Donald to go forward as a modern thinking organisation, and while knowing and understanding our history, avoid spending too much time "wallowing" in the injustices of the past. He hopes to see the High Council of Clan Donald Chiefs function as a professionally run and properly funded body.
The MacDonell of Glengarry motto is: "Creagan-an-Fhithich".
Sloinneadh: Aonghais Ragnhaill Ẹghann mac Aonghais Ragnhaill Domhnaill mhic Aonghais Ragnhaill 'ic Aonghais Ragnhaill Uilleam 'ic Aonghais Ragnhaill 'ic Aonghais Ragnhaill 'ic Aonghais Ragnhaill 'ic Ragnhaill 'ic Domhnaill 'ic Aonghais 'ic Ragnhaill 'ic Domhnaill Gorm 'ic Domhnaill 'ic Aonghais Aluinn 'ic Alasdair 'ic Iain 'ic Alasdair na Coille 'ic Domhnaill 'ic Ragnhaill 'ic Eoin 'ic Aonghais Og 'ic Aonghais Mhor 'ic Domhnaill 'ic Ragnhaill 'ic Somhairle.