---
29 October 2006 - Clan Donald Dinner in Queensland, Australia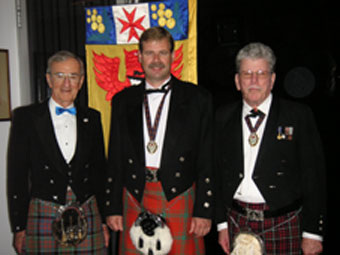 Pictured from left to right at the dinner last week are: Grahame MacDonald, past High Commissioner of Clan Donald Australia; Allan Macdonald of Vallay, Clan Donald New Zealand and Dunscaith Councillor on the Finlaggan Council and Malcolm McDonald, Commissioner of Clan Donald Queensland and Dunaverty Councillor on the Finlaggan Council.
---
30 September 2006 - The Tòiseach Marries Rosalyn P. Bennett of Charleston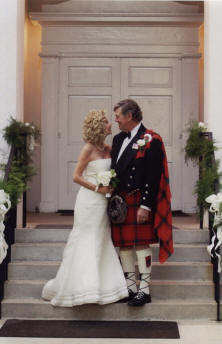 on Saturday 30th September 2006 Major Bruce W. Macdonald, Tòiseach & Castle Duntulm Councillor of The Council of Finlaggan married Rosalyn P. Bennett of Charleston, South Carolina at Saint James Episcopal Church, James Island, South Carolina. The Bride was attended by her daughter Mrs. Amanda Shannon as Maid of Honour and Ms. Trena Barnes as Bridesmaid. The Groomsmen were Bruce's sons, Mr. James M.B. McDonald and Mr. William C.S. McDonald who travelled from Ottawa, Ontario, Canada for the occasion. The bride and groom were processed from the church in proper Highland fashion to a sprightly march played by Piper Joshua Collins and composed by Archie McIntyre, Gentleman Piper to the High Council of Clan Donald Chiefs, entitled "Major Bruce Macdonald at the Sound of Sleat".

At the reception, Ranald Macdonald of Clanranald, the Captain of Clanranald welcomed Rosalyn Macdonald and her two daughters as the newest members of the Clan and presented them each with Clan Donald tartan sashes to commemorate the occasion. This ceremony was followed by several speeches and toasts in which Colonel Albert E. Manning, High Commissioner for Clan Donald USA sent greetings from Lord Macdonald and David Macdonald of Castle Camus, Lieutenant of Sleat in North America sent greetings on behalf of Sir Ian Macdonald of Sleat, Bt. There were numerous kinsmen and friends in attendance at the wedding, and all enjoyed celebrating the happy occasion with wonderful food, refreshment and dancing at a lovely sea-side club.
Many congratulations to Bruce and Ros. Article submitted by David Macdonald of Castle Camus.
---
September 2006 - Clanranald in the USA. Clanranald has been touring the USA and attended the Charleston Scotttish Society's Highland Games at the beautiful Boone Hall Plantation on 16 September. He also attended the wedding of Bruce Macdonald, the Toiseach of the Finlaggan Council, and helped welcome Mrs Rosalyn Macdonald to the Clan on 30 September 2006.
---
6 July 2006 - An Heir in Antrim. The Chief of the McDonnells of Antrim, The Right Honourable Alexander Randal Mark McDonnell, the 9th Earl of Antrim and 14th Chief of the Macdonalds of Antrim, announces with pleasure the birth of a grandson, Alexander David Somerled McDonnell, born on Friday, June 30, 2006 to Lord Antrim's son and heir, The Rt. Hon. Randal McDonnell, The Viscount Dunluce, and his wife, Aurora McDonnell, The Viscountess Dunluce.