Clan Donald Magazine No 7 (1977) Online

Clan Donald in Belgium - Belgian Press Report
Translated by Elizabeth I MacDonald MA.
The first branch of The Clan Donald Society on the Continent of Europe was formed on September 12th, 1976, when over two hundred and fifty descendants of Stanislas Joseph Magdonelle (born in Scotland in 1762) met at Villers-le-Temple in Belgium. After attending a mass celebrated by one of their number, to the sound of bagpipes they adjourned to a restaurant, "La Commanderie", where photos were taken and The Clan Donald (Belgium) was officially founded.
The man behind this quite extraordinary "clan gathering" is Monsieur Guy Magdonelle of Brussels, who has spent four years researching into the genealogy of the Magdonelle family. He has traced 1300 descendants of Stanislas Joseph Magdonelle and his wife Marie-Marguerite Parmentier, of whom 662 are alive today. The result of these years of labour was displayed in the form of a 112 page genealogical work, from which the members of the company were able to trace their ancestry back to the five children of Stanislas and Marie-Marguerite.
We congratulate Monsieur Magdonelle on the successful outcome of his research, and wish our newest Clan Donald branch a long and happy existence. Bienvenue à nos cousins Belges!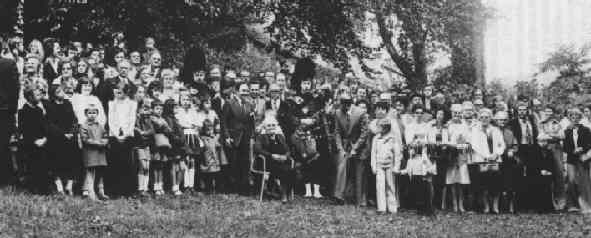 Photograph: The Clan Donald of Belgium Inaugural Gathering at Ardenne 12 Sep 1976.
Left of Centre - Between Pipers - Guy Magdonelle, President.
Feedback. If you have any comments, additions or corrections to this article, please post them in the forum as a new thread here. Please make the title of your post the title of the article and put a link back to the article in your post. You will have to register to join the forum.