Clan Donald News & Site Updates
7 July 2006 - A New Tartan for Ontario
. Further details
here
.
---
6 July 2006 - An Heir in Antrim. The Chief of the McDonnells of Antrim, The Right Honourable Alexander Randal Mark McDonnell, the 9th Earl of Antrim and 14th Chief of the McDonnells of Antrim, announces with pleasure the birth of a grandson, Alexander David Somerled McDonnell, born on Friday, June 30, 2006 to Lord Antrimĺs son and heir, The Rt. Hon. Randal McDonnell, The Viscount Dunluce, and his wife, Aurora McDonnell, The Viscountess Dunluce.
---
15 Mar 06 - Pipe Major Roddy MacDonald appointed as piper to the Governor of Queensland. Further details here.
---
29 Dec 05 - Glencoe and Beyond by Iain S. Macdonald. This excellent new book has been added to our Clan Donald Amazon Bookshop.
---
26 Dec 05 - Death of Peter Paton, Clan Donald Canada. In a very sad week for Clan Donald in Canada, It is with deep regret that we report the death of Peter Paton of New Glasgow, Nova Scotia, past High Commissioner. Further details are on the Canada Board on the Forum.
---
23 Dec 05 - Death of Bill Johnson, Clan Donald Canada. It is with deep regret that we report the death of Bill Johnson, past High Commissioner. Further details are on the Canada Board on the Forum and in the Online Magazine here.
---
04 Dec 05 - Clan Donald USA AGM 2006. The Clan Donald USA 2006 AGM will be held in sunny San Diego, California from 26 to 30 Jul 06.Further details on the Clan Donald South Pacific Region website here.
---
15 Nov 05 - Lady Claire Macdonald Honoured. Lady Claire Macdonald was presented with the Royal Highland Agricultural Society's 2005 Lifetime Achievement Award on 3 November 2005. Further details are in the CDM Online Edition here.
---
15 Nov 05 - Rob McDonald Parker Honoured. Rob McDonald Parker was presented with the Clan Donald USA Distinguished Service Award on 24 September 2005. Further details are in the CDM Online Edition here.
---
29 Oct 05 - The War Hero Clan Chief by Julian Champkin. Following the publication of From Dogfight to Diplomacy, the Daily Mail produced a 2 page spread on the late Donald MacDonell of Glengarry which is reproduced here.
---
6 Oct 05 - Chiefs' Hosted Tour. Bookings are now being accepted for the Clan Donald Chiefs' Hosted Tour of Skye and Uist from 7 to 15 June 2006. This will include the Gathering and Annual Clan Donald Forum on Saturday 10 June 2006 at Armadale, Skye. Further details and booking information can be found here.
---
14 Sep 05 - High Council Appoints a Piper. The High Council of Clan Donald Chiefs have appointed Archie McIntyre as their piper. Further details in the Online Edition of the Magazine here.
---
19 Aug 05 - Clanranald Gathering at Arisaig. Rod & Diane Allen's photos of the Clanranald Gathering and Arisaig Games on 27 Jul 05 are available in the Clan Donald Magazine Online Edition here.
---
3 Aug 05 - From Dogfight to Diplomacy - A spitfire Pilot's Log 1932 - 1958. The memoirs of the late 22nd Chief of Glengarry will be published on 20 October 2005 and can now be reserved at our Clan Donald Amazon Bookshop.
---
3 Aug 05 - The Finlaggan Herald Installation at Glencoe.
The Hon. Adam Bruce, our Finlaggan Herald is given the cover treatment in the August issue of The Leopard following the installation ceremony at Glencoe on 11 June 2005. See the Full Story.
There are plenty of other interesting articles on the website which are well worth a read.
---
27 Jul 05 Arisaig Highland Games & Clanranald Gathering - Traigh Farm, Arisaig
Clanranald will be Chief of the Games and will be accompanied by his Lieutenant, Lt Col Rod Allen (Commissioner Clan Donald NC) and Diane Allen. There will be a parade through the village before the games at 11:00 am and there will be a Clan Donald tent. All clansmen and women, particularly Clanranalds, are encouraged to attend this event and to lend a hand at manning the tent.
The programme of events includes Piping, Highland Dancing, Heavy competitions, Track and Field events and childrenĺs races. There are both Open and Local competitions in the Piping, Dancing and Track and Field events and all events are free to enter. There will be the usual side-shows, licensed bar and food stalls surrounding the arena.
The Games field is situated at Traigh Farm, about 3 miles west of Arisaig village. Traigh, with its white sands, is part of the old district of South Morar and rests amid some of the most glorious scenery of the west Highlands.
From the games field there is a panoramic view which takes in the Point of Arisaig with the Islands of Eigg, Rum and Skye to the west. As your gaze travels to the north, you will see the hills of North Morar guarding Loch Morar below and as you continue north eastward, the Mointeach Mh˛r lies under the watchful presence of Craig Mh˛r, Sgurr an t- Sasunaich and Sgurr an Albanaich. To the south west, Arisaig village nestles at the head of Loch na Ceall.
Enquiries to Allan MacDonald. Location Map.
---
21 Jul 05 From The Ottawa Citizen By Tony Lofaro

Kayleigh Macdonald is just back from Antigonish, N.S., after having picked up another trophy for her prowess in highland dancing.
The 15-year-old Ottawa student picked up an award in her age group at the Canadian Highland Dancing Championships which had close to 1,000 dancers participating from across Canada.
"I got a trophy that I have to give back after the year's up, but you (also) receive a keeper trophy of a glass bowl and a sword," said Kayleigh, a Grade 9 student at Hillcrest High School.
Next up for her is the world highland dancing championships in Cowal, Scotland, to which she'll travel with her mother, Gillian. The Aug. 25-27 event is the largest and most spectacular highland games in the world, attracting more than 3,500 competitors.
Kayleigh is a veteran highland dancer who has been performing since she was 21/2 years old, picking up several awards along the away.
"I enjoy highland dancing big time," she said resting at home after arriving Monday night from the national competition.
She said she receives training from her mother and her aunt.
"I don't think highland dancing is a really big thing in the world just yet, so I'm not sure about a career, but I definitely will pursue it as I get older.
"I will probably teach (dancing), but I don't think I will make it the big career that I want."
Submitted by Bruce Macdonald, T˛iseach, Council of Finlaggan.
---
26 Jun 05 - Clan Donald USA 2005 AGM
Details of the Clan Donald USA 2005 AGM at Clarksville, Indiana from 21 - 25 Sep 05 are now available on the Clan Donald USA site at http://www.clan-donald-usa.org/agm/2005/2005AGM.htm
---
26 Jun 05 - Finlaggan Pursuivant Pictures
The Heraldry Society of Scotland have put a small picture gallery of the Installation of Adam Bruce as the Finlaggan Pursuivant at Glencoe on 11 June 2005 on their site here. Scots Heraldry have an article with pictures here.
---
14 Jun 05 - Clan Donald Chiefs' Gathering
Link to Grampian TV's coverage of the Chiefs' Gathering in Glencoe on Saturday 11 June 2005 with playable video clips. Text, Picture and WMV file below from Grampian TV's North Tonight: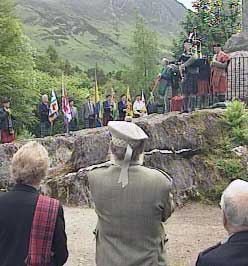 Ancient Highland Tradition Resurrected 14/06/2005 10:30
An ancient Highland tradition was resurrected at the weekend in Glencoe in front of a hundred MacDonald clansmen. The great and the good of Highland society gathered for a colourful ceremony to mark the installation of the first clan herald in five hundred years.
Pomp and pageantry in Glen Coe to mark the recreation of an ancient and celebrated position. In front of a hundred kinsmen at the memorial to the massacred MacDonalds, thirty-seven year old Edinburgh solicitor Adam Bruce was sworn in as the Finlaggan Pursuivant.
As part of the induction he was baptised with wine and took some solemn oaths pledging allegiance to the Clan Chief. So what does the role entail ? The Ross Herald to the Court of Lord Lyon King of Arms explained.
Recent films including Rob Roy and Braveheart have created a resurgence of interest in Highland culture, and the Pursuivant denies his role is purely ceremonial and frivolous. Scotland's pursuivants have never gathered together but it's hoped that all four will parade when a special International Heraldic Congress is held in St Andrews in August next year. The weekend's ceremony has ensured that a centuries old Highland tradition continues to go from strength to strength. View WMV file of the coverage. (Requires Windows Media Player).
---