Clan Donald Magazine No 7 (1977) Online

The Last of the Glencoe Chiefs? by A. Grahame MacDonald, Townsville, Australia.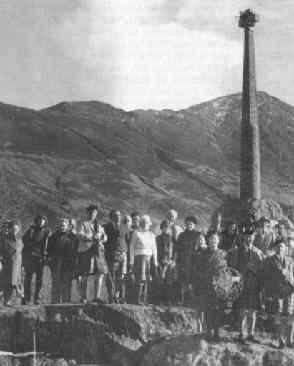 Dr. Ewan MacDonald, a physician in the East India Company service was the last of the recognised chiefs of the MacDonalds of Glencoe in the direct male line. Unfortunately it is not generally known that on the good doctor's death in 1840 the de jure chief - Dr. Ewan's brother Ronald - was living in Australia.
Ronald MacDonald, second son of Alexander, 16th Chief of Glencoe and his wife Mary, daughter of Sir Ewen Cameron, Bt. of Fassifern, was born near Fort William on 31st December 1800. On 3rd October 1826, he married Maria, daughter of Dr. Thomas of Balla­cosnahan, Patrick, Isle of Man, whose wife was formerly Anne Cosnahan. Dr. Thomas, whose family were not of Manx origin, was a surgeon in the Royal Navy before retiring to the island. Two children were born to Ronald and Maria MacDonald. Anne Cosnahan was born on the island in July 1828 and her brother Alexander James John was born there in October of the following year. (The addenda to Vol. III of "Clan Donald" carries a note to the effect that Alexander of Glencoe's second son was ... "Ranald, a Captain In the Army, who married a Miss Thompson, and had a son Alexander and a daughter." This is the only place where the name is rendered as Ranald).
Having purchased a commission as ensign, Ronald MacDonald joined the 18th (South Staffordshire) Regiment of Foot on 11th February 1819 at the age of eighteen. He was promoted to lieutenant on 25th January 1825 at which time he was serving with the 89th Foot. On 20th August of the same year he transferred back to his original regiment with the rank of Lieutenant. In January 1841, the year of his death, he was promoted to the rank of captain (unattached). He served at home for 7˝ years and abroad for 3˝ years before going to Australia. From November 1820 to May 1825 he was at Gibraltar and Malta. In 1829 be served for a brief period in the Ionian Isles.
In 1836 the 80th Regiment was sent to Australia in charge of convicts, and was employed by detachments in New South Wales, Tasmania, Norfolk Island and New Zealand from that time until 1844 when it was concentrated in Sydney. Australian records shown that Lieutenant Ronald MacDonald arrived in Sydney aboard the "Earl Grey" with his wife on 31st December 1839. He was appointed a Magistrate for the Colony of New South Wales on 17th March 1837.
Lieutenant MacDonald was posted to Norfolk Island where he served until 15th October 1839 when he and his family returned to Sydney. His term of duty on the island was involved in guarding convicts, a most depressing duty for a military officer. These convicts are reported as being some of the worst specimens of degraded human­ity and the soldiers had little diversion for their soul destroying duties. Undoubtedly the MacDonalds were delighted to return to Sydney Town.
Unfortunately nothing is known of the family's life in Sydney. It can be assumed that neither Ronald nor Maria enjoyed good health as both died two years later. It appears that their monotonous lives may have been relieved by a visit of Mrs. MacDonald's father soon after they left Norfolk Island. A newspaper report of the time states that a Dr. Thomas RN, was a passenger on the barque "Pilgrim" for Sydney to Liverpool on 20th August 1840. One likes to believe that this person was in fact Dr. Thomas from the Isle of Man.
Records at the Anglican Church of St. Stephen the Martyr in Penrith, near Sydney, state: "Next to the Jamison vault is a little stone inscribed with the name of Maria, wife of Captain Ronald MacDonald of the 80th Regiment, who died at Emu Plains, 20th April 1841, aged 45 years. (The Jamison vault contains the remains of Sir John Jamison, pioneer Australian pastoralist and former surgeon in the Royal Navy).
Captain MacDonald died shortly after his retirement from the army, at Parramatta on 21st August 1841 aged 41 years. He is buried in St. John's Cemetary. A tombstone was erected to his memory by his brother officers of the 80th Regiment.
The executor of his will, Major W.H. Christie, was aware that Capt. MacDonald became Chief of the MacDonald of Glencoe a few months before he died. In a letter to the governor of the colony he sought favours on behalf of the MacDonald children regarding the purchase of land. Referring to Captain MacDonald, Major Christie stated that 'at his death he was the Head, and his son now is, of the unfortunate Clan of the McDonalds of Glencoe." (Information supplied by the Archives Office of NSW).
Apparently Major Christie's representations were unsuccessful as the children returned to the Isle of Man. Unfortunately there is no record extant of their return, but Alexander is on record as having been educated 'for the most part' at Forrester's School in Douglas, Isle of Man. He entered the 95th (Derbyshire) Regiment of Foot (Sherwood Foresters) as an ensign on 23rd April 1847, and went to Varna and the Crimea in 1854. He was present at the Battle of Alma where a bullet lodged in his breastplate. At Inkermann he was adjutant of his regiment and was severely wounded, being struck in the knee by a bullet and knocked off his horse. While on the ground he was bayoneted no less than twenty times. He was invalided home, being retired as colonel on half pay and was appointed Fort Major at Edinburgh Castle. He succeeded to the estate of Ballacosnahan on the death of his aunt, Miss Anne Thomas. Later he moved to London where he remained until his death, caused by a fall on the floor, which occurred at Teddington, Middlesex on 17th December 1889 when he was aged sixty years. Colonel MacDonald never married and his sister also remained single.
So, yet another line of military MacDonalds died out. Were Captain and Colonel MacDonald the last of the Glencoe Chiefs or are there other MacIain descendants awaiting discovery?
Photograph: Members of The Clan Donald Society of Edinburgh in Glencoe at the Wreath-Laying Ceremony, 13th February 1976. Oban Times.
Feedback. If you have any comments, additions or corrections to this article, please post them in the forum as a new thread here. Please make the title of your post the title of the article and put a link back to the article in your post. You will have to register to join the forum.